Hi all!
Happy Thursday! It's the last day of the month, can you believe it? February has gone by way too quickly. Since it's Thursday, it's time to link up with
KTJ
and
Lex
for NSV's (I'll get to these in a bit)! Plus I weighed in this morning (I'll get to this in a bit too). PT went well today, I'm hurting but that's pretty normal. And thankfully, she said that it would be a good idea for me to start doing a little walking. So this afternoon I got in about 13 minutes, I don't want to do too much too soon (especially since she had me do 5 minutes on the treadmill this morning already). Some is better than none, that's how I'm trying to look at it right now. I don't want to push myself and make my pain worse, so I'm taking things slowly.
Weigh-in time! Honestly, I almost forgot to weigh-in this morning (oops). I was just going through my morning routine, bathroom, brushing my teeth, etc .. you know the drill. Then I walked out the door and was just about to head down stairs and I thought, "It's Thursday, I have to weigh-in!" So I turned back around and got ready to weigh-in, and I have good results this week. I'm down .8 lbs! That is awesome in my book, especially after the week I've had with my nutrition.
Starting on Sunday I'm trying something new, carb cycling. I've heard good things about it and how it helps maintain muscle but losing fat. I'm just going to try it out for a month and see what kinds of results it will give. Typically people do high carb/low carb/no carb days, personally I'm not doing the no carb days. I rely on carbs way too often, I love them. Honestly, I would eat carbs all day if I could. This will be a challenge but I'm willing to give it a try. I've seen results that other people have gotten with carb cycling and they were awesome, so I'm hoping to see some results as well. So I've began researching lower carb foods and when we go shopping this weekend, we'll be stocking up on them.
I have awesome news, last night I talked to my mom, and she said that they could pay the rest of the fee's for the petition for Abid's visa! :) You all have no freaking idea how happy this makes me, I almost cried last night when she said yes. So I'm just finishing up the paperwork and then we'll get it sent out sometime next week. I'm glad that this process will finally be starting.
But now I think it's time to link up, so here are my NSV's of the week:
1. My class is going great
2. My water intake is back to where it should be
3. My PT said that I can start walking again
4. I've realized a few reasons on why I snack a lot
5. My mind has been renewed
6. My parents are going to help pay the fees for the petition for Abid's visa :)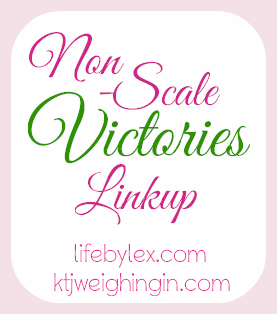 I'm trying something new for dinner tonight and I'm worried about it. It's this crock pot chicken Marsala, well it would probably help if I had some Marsala at home. But alas, I don't, so I used the Riesling that we do have. It's smelling delicious and I checked the flavors and it is delicious in my book, so that's exciting. Just goes to show you that improvising is a good thing. :)
Time to go finish up some homework. So until next time.
~Sara~