Hi all! It's already Thursday, can you believe it? How is everyone's week going so far? Mine is not going so hot. I went to the doctor today and I have another sinus infection, my second one in about a month and a half. So that means I'm not going to Texas with my friend and that I've got to increase my fluids and rest, plus I can't really exercise. :( It's just frustrating because I do want to exercise but it just makes it harder to breathe. I'm starting a new antibiotic later today, so hopefully it will help.
Today I'm linking up with Katie and Lex for Non-Scale Victories. Honestly, after the week that I've had, I don't really have very many.
1. I've kept up with my water in-take even though I'm sick
2. I've overcome being so emotional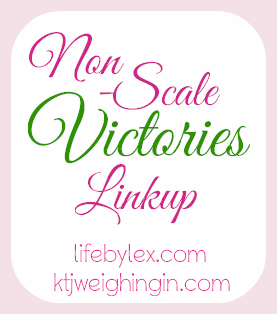 Well my head is hurting and it's time to go lay down and get some rest (doctor's orders). I'm going shopping tomorrow with Ashley for wedding dresses and bridesmaid dresses. So hopefully I'll have a picture for you! Until next time.
~Sara~