Hi all!
Happy Thursday! How are all you lovely people doing today? I am doing well on this beautiful and hot Colorado day. Sitting at Starbucks again, working on homework and of course writing to all of you. :) Any exciting plans today?
I had a second interview at a university yesterday about at Admissions Advisor position and I'm feeling unsure about how it went. But I've also been applying to somewhat similar positions with other universities as well. This type of job would be absolutely perfect for me right now and I'm praying that I will be able to get one of these positions. I know that God will provide something for me and I am sure this is a learning experience for me, but within a few months the money that I have will run out. I'm not all that worried right now but no matter how cautious I am with my money it will run out. So please be thinking and/or praying for me and that a job will be provided for me soon.
It has been really nice, Abid and I have been able to have 2 decent Skype dates the past 2 days. He makes all of this a little bit easier but good Lord I miss him so much. I really wish that he was here with me, hopefully later this year we will be together. Oh, did I mention that I tried on wedding dresses the other day? My friend Ashley told me to get out of my comfort zone with dresses and try on some that I typically wouldn't. And I found one that is absolutely not me at all and I fell in love with it. At this moment, that is the dress.... it is so gorgeous. I wasn't able to get a good picture of it but it is a floor length, a-line halter dress with an lace overlay and beaded embroidery. When Ashley and John come visit me next month I will be trying it on again for them, and hopefully I can have one of them take a picture of it. If any of you know me, you would know that I'm not a crier and I almost cried in this dress. It goes perfectly with our romantic wedding theme. Ahh! :)
Since it is Thursday, it's time for some NSV's! I know I haven't linked up in a while but I thought I would today.
1. I'm staying positive even though my original job did not work out.
2. I am not eating emotionally as much
3. My eating is getting more under control in general
4. I'm drinking more water again
If you have some to share, make sure to link up with the lovely
Katie
and
Ashlee
and then go and visit others to read about their NSV's.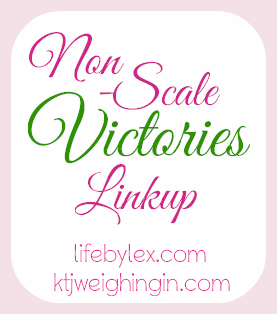 Time to get back to my homework. But I hope you all have an amazing day! So until next time!
~Sara~