Hi all!
Happy Thursday! How is everyone doing today? It's cloudy, warmer and it will probably rain today. It sort of reminds me of how I've been feeling lately. I've been really down lately, feeling lonely, stuck, in a rut, plus other things. I don't know... I have so many things that I want to change and so many things that I want to be doing. It doesn't help that Abid's internet connection has been horrendous that past few weeks, we talked on the phone on Tuesday for a few minutes but the last time we really talked was last Thursday. So it's been rough. Don't get me wrong, I love all my friends so much, but I wish more of them lived closer to me.
I went to the doctor yesterday because I've been having a few issues for a few weeks. So he's running a few tests... labs and an EKG. I'm hoping that he'll call today with the results because this waiting is stressing me out. At this moment he says I have a stomach bug unless my test results say otherwise. I'm just trying to relax because everything is stressing me out. I always have to be strong... I have a song that comes to my mind that explains how I'm feeling right now. Yes, this is the Glee version but you get the drift.
So today I decided to do something that I have not done in a while, linking up with
Katie
and
Lex
for Non-Scale Victories Thursday. I haven't done this in for weeks and I don't really have a reason why. Lately I've been really down though and I need to get back to looking at the positives and doing this will be a good start.
1. I got back to carb cycling this week, even though I'm not feeling 100%
2. All of my old size 20 clothes are finally fitting again
3. I have a yearning to exercise (even though the doctor has told me not to until I get my test results back)
4. Even though I've been feeling down, I have not turned to food
5. I have not snacked in the evening at all this week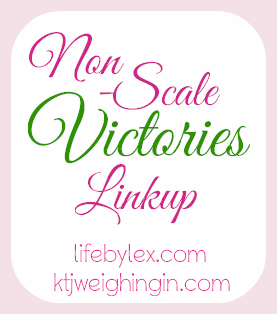 On a happier note... it is Thursday so that means Glee is on. :) I'm quite excited about it, although it's the season finale and I've read that it is going to be quite emotional. If any of you know me, you'll know that I'm not much of a movie/TV crier but I guess we shall see this evening. But it's time for some homework. So until next time.
~Sara~