It's a beautiful morning, quite cold (it's 2 and with windchill it feels like -11). This morning I woke up with a back ache, it probably was a mixture of the weather being so cold and just plain sleeping wrong. But I didn't use that as an excuse to skip a workout. This is one of the major things that separates me from myself a few years ago. I don't make excuses to skip a workout now, in fact, I yearn to exercise.
I am officially done with level 1 of the 30DS! :) I'm proud of myself and I'm ready for the next challenge, but I have heard that level 2 and 3 focus a lot more on abs and that is probably the weakest part of me. So I am really hoping that my abs will become a lot stronger and I'll lose fat and inches from it during these next 2 levels. Another thing that I'm proud of is that I've lost a total of 7 inches during level 1! I lost .25 inches off each arms, 1 inch off each thigh, 2.25 inches off my upper waits, 1.5 inches off my lower waist, .5 inch off my hips, and I've lost 1.6 lbs since starting! :) I'll definitely take this, especially with having to take off 10 days starting after day 8.
Well I had my weekly weigh-in today and it went about as well as I thought it would, not well at all. I gained 2 pounds, it was probably a mixture of eating too much for a few days, the 4 extra glasses of water I had yesterday, and higher sodium levels. Those last 2 aren't excuses because I did eat way too much for a few days. As much as that number on the scale upset me, it's not the end of the world.
Thursday's are Non-Scale Victories day, and this week I have had a few NSV's.
1. Water
I'm quite proud of myself because I have drank at least 128 oz of water every day this week. Water has always been an easy thing for me because my mother always pushed drinking water. But for a long time I was only getting about 64 oz every day and after doing some research, I found out that I should be drinking about 143 oz every day. I know that this sounds like a ton of water, because it is but I love water. So I am trying my best to get closer to that goal, but 128 oz every day is a great start for me to reach this goal.
2. Clothing
This week I tried on a shirt that I received from my former college, and it's an extra large. When I first got this shirt it fit but it was quite tight. Because of this, I have been wearing this shirt to workout at home, since no one can see me wearing it. The shirt had just been washed, so I was expecting it to be quite tight on me. But to my surprise, the shirt fit me quite well. So that mean's I'm in an extra large now! :)
3. Exercise
Yesterday I was finally able to exercise again after a long 10 days of doctor's order of no exercise. I didn't know how it would go because I was diving right back into day 9 of the 30 day shred. I consider this a NSV because it went well, I pushed myself while still listening to my body. So I was able to get in a great 23 minute workout.
4. Positivity
As some of you may know, I do try to stay positive at all times. Today I had my weekly weigh-in, and I gained a little weight, but I didn't let it get me down. Just because I gained weight, doesn't mean I'm worth less as a person. So I'm proud of myself for not letting this gain get me down, because the old me would have just given up.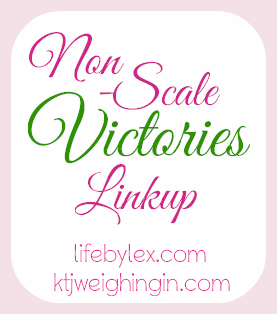 So until next time.
~Sara~