Hi all!
Happy Monday! It's a new week, what are we all going to do to make it a great one? How are all of you doing today? Sorry I've been MIA for the past 2 days, it's been quite busy. Let me give you a quick recap:
Saturday we had our garage sale and that made for such a long day. It was really slow but we made a few dollars, so it's better than nothing. I did get a bit of a sunburn on my shoulders but nothing too horrible. But I most definitely did not drink enough, so I had a bad dehydration headache. And sadly I did not get much homework done, but it all worked out well.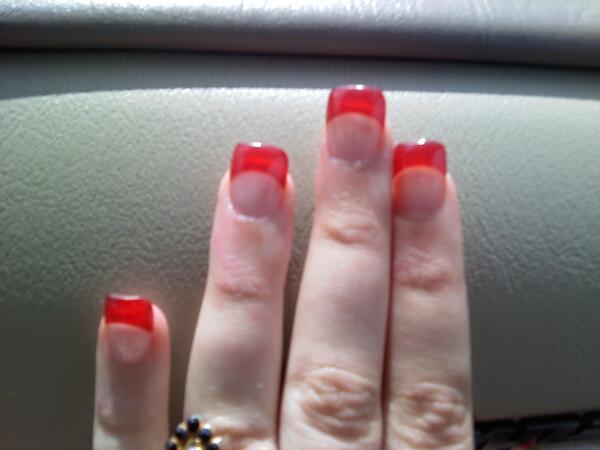 Sunday I headed to church in the morning with my mom and then we were out for a bunch of the day. Thankfully I was finally able to get my nails redone and now I have burgundy tips. :) I'm absolutely in love with them. I know the picture isn't the best and it definitely doesn't do them justice but here they are nevertheless. Plus we had some other shopping to do and then just spent the evening with family and working homework (like every other Sunday :) ).
I have so much to get done today and this week. Finding an apartment, getting my final done and my other homework, start packing, get a head start on next week's homework, among numerous other things. While I am still at home I am trying to work ahead in as much homework as possible because once I start working full-time, I will not have as much free time.
Amazingly enough I have gotten quite a bit accomplish last night and today though. I got a head start on a bunch of homework (although I really need to focus on my final that's due on Sunday) and sent out an important email about an apartment that I'm hoping to get into. But I'm going to cut this post short because it's time for a walking/jogging interval and some strength training. After that, it's back to homework. It's never ending. I hope that you all have an amazing day! So until next time.
~Sara~