Hi all!
Happy Thursday! How are you all doing today? It is a colder and dreary day here, how is the weather by all of you? Honestly, I'm loving the colder weather, I was finally able to sleep last night. But of course, I didn't realize it was suppose to be so cold last night and I had my fans going and I woke up about 5:30 because I was cold and I wasn't able to fall back asleep. That makes today a coffee kind of morning. :)
Today I am linking up with
Katie
,
Lex
, and
Ashlee
for NSV's Thursday! This is one of my favorite days of the week because I love sharing my NSV's and reading about all of yours!
1. My nutrition has been on key all week
2. I have worked out 3 days so far this week
3. I have avoided unhealthy late night snacking
4. I exercised through some soreness yesterday
5. I made healthy choices while going out for lunch with a good friend yesterday
6. I am not letting my craves get to me
What are your NSV's for the week? Don't forget to link up!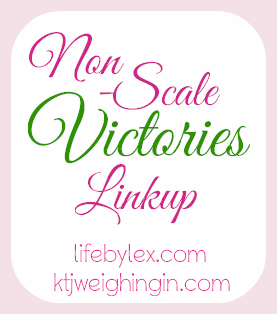 Time for some homework and some exercise this afternoon. I hope you all have a wonderful day! So until next time.
~Sara~