Hi all!
Happy Thursday! How are all of you doing today? Can you believe it's Thursday already? This week is flying by. I'm going to try to keep this post short today because I have so much to get done... 2 papers to write, finish up learning activities for Biology, write 2 getting to know you discussion posts, start a final paper, get cleaning done because we have a showing of our house tomorrow night, and finish getting ready for our garage sale tomorrow night and Saturday morning. Oh and I'll be posting about my amazing news later today or tomorrow... maybe a vlog :).
I'm so excited for next weekend, my best friend is coming home for a few days and on Saturday I have my Darren Criss concert! He started his tour last night in San Francisco and I've watched many videos from it which has made me even more excited for the concert. It's so cool watching the videos because playing at the Fillmore has been a dream of his forever. He was born in San Francisco, so I was so excited for him being able to live out one of his dreams. Seeing him live will be a dream come true for me and it's only 9 days away! :)
Thursday's are an amazing day because I get to link up with Katie, Lex, and Ashlee for NSV's Thursday! :) Make sure to go check these lovely ladies out and don't forget to link up with us and share your NSV's of the week. So without further ado, here are my NSV's.
1. I jogged outside this morning
2. My nutrition has been right on key this week
3. I've been exercising regularly... walking/jogging intervals and workout videos
4. I have other good news that I cannot wait to share later! :)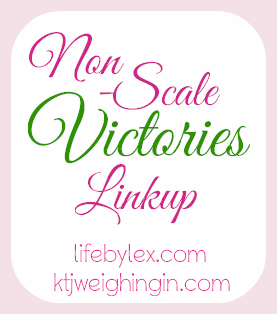 Time to cut this short and get going on all my homework. I cannot wait to share my news with you all very soon! Have a wonderful day! So until next time!