Hi all!
Happy Thursday! How is everyone doing today? I'm strangely tired (I have been the past few days) even after my morning coffee. It's a beautiful day here, besides being cold. But the sun is shining, so hopefully that means it will be a good day. How is the weather by all of you? I hope that it feels more like spring by you than it does by me. We still have a bunch of snow on the ground :( but hopefully as it starts warming up, it will melt away.
Today I am still feeling a little off. I took a walk right away and it was a lot slower than usual. I'm not sure if it's still because of the other day when I ate too much or what, but I'll get through it. Like I said yesterday, it's probably just stress. Lord knows I have been stressed emotionally lately, plus school stress. My professor is going crazy about our discussions, people are finally posting more but not responding to others. And heaven forbid that I didn't post anything yesterday, but I was busy watching the 2 hour documentary for the paper we have to write for this week. At least the documentary was really interesting, it made me emotional and really think. I was complaining about having to watch it, but I'm glad that I did have to.
The recipe that I tried out last night was a hit! It turned out really good and it was delicious. I will definitely be making it again. Honestly, I just wanted to eat the apples and sauce by itself. And yes, this is how I eat while on a diet. :)
It's Thursday, so that means I'm linking up for NSV Thursday. :) Thursdays are a ton of fun for this very reason, I love reading all of the NSV's.
1. I've been walking at least 5 days/week
2. My nutrition has gotten back under control
3. I haven't let my stress get to me and control my eating habits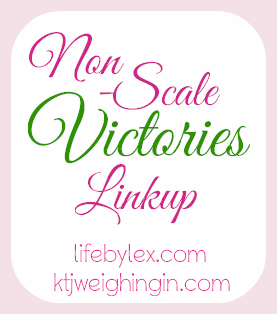 What are your NSV's for the week?
Time to go and hit the discussion boards before my professor goes crazy. :) Plus I have to start my paper and hopefully get most of it done today. I hope you all have an amazing day! So until next time.
~Sara~