Hi all! It's January 31st already, I can't believe it. Even better is that my best friend will be here tomorrow, and then my good friend and her fiance will be here 1 week from today! :) And then we get to go wedding dress and bridesmaid dress shopping. I'm excited to see where I will be at with my weight and clothing size at that time. The only problem will be, what size dress should I order? The wedding is in the beginning of October which is 8 months from now. Only God knows how much weight and inches I will lose by them, I would appreciate any ideas because I really can't afford to pay for a lot of alterations.
I had my final weigh-in of January, and I have lost 1.4 lbs since last week! :) That puts me at a total of 3 lbs lost in January! Honestly, I was hoping for a little more but 3 lbs is a major victory. And hey, it's less than I weighed at the beginning of the month and I've lost quite a few inches as well. :)
Right now I don't have a picture to share with you from my workout, it's been crazy so far today. I've been on the phone with a friend for a few hours now. And Abid wanted me to watch him sleep until his internet decides to not work. So no workout for me this morning, but I will get it done this afternoon/evening. I promise!
Today it's time to link up with the lovely
Katie
and
Lex
to share my NSV's of the week.
1. Losing it
These may relate to weight a little but I still thought I'd share them
- 10.75 inches
- .4 points off my BMI
- .64% of my body fat %
2. Water
I have drank a total of 992 oz of water this week, which is an increase of 104 oz from last week.
3. Exercise
I have done the 30 Day Shred 3 days this week and yesterday I increased the number of reps in every set. Also I have been using 1 lb weights instead of just using my body weight.
4. Positivity
I have stayed positive through the ups and downs of this week.
5. Scale
I've only stepped on the scale twice this week (Monday and Thursday) which is a major NSV. It's been tough this week for some reason and I wanted to step on the scale every day
6. Calorie Goal
I've stayed right around my calorie goal every day this week which is a great thing!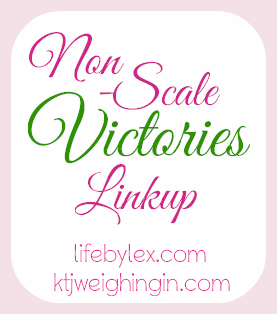 Until next time.
~Sara~